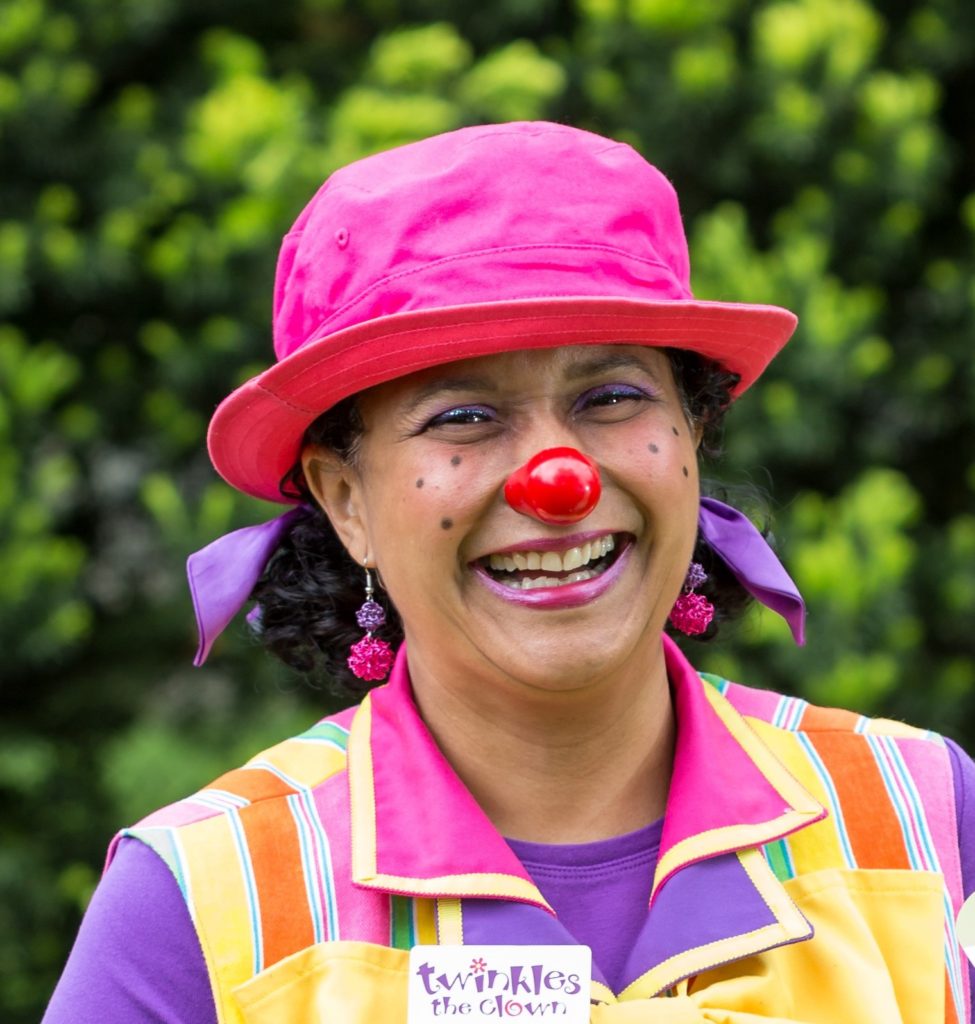 Hello! Howdy! Hi!
I'm Twinkles the Clown and I'd love to help you have the Best Party Ever!
Looking for a fun and fabulous family entertainer for a birthday, school fair or community event? I'm your gal!
I've been a birthday party clown for over 20 years, and I love to play, be silly and laugh with kids of all ages… 2 to 82!
"Birthdays аrе good fоr you. Thе mоrе уоu have, thе longer уоu live." ~ Anonymous
My Clown Services include my silly Clown Magic Show, Big Bubble Outdoor Party, and super cool Balloon Animals, Face Painting – I love them all! Company parties, festivals, street parties and fundraising events are some of the places you can find me clowning around.
I love birthday parties!
Birthdays are so very special. They're the one day in whole year we get to be treated like a king or queen. Celebrating with kids and their friends and family is a huge honour, and I love making kids feel extra special on their birthdays.
Birthday parties are the best! School birthday parties rock! Lots of fun and laughs are essential!
Did you know, that ассоrdіng tо thе Guinness Book оf World Records,
"Happy Birthday tо You" іѕ thе mоѕt popular song іn thе English language. Wow!
Always Professional
I'm a proud member of TCA Family Entertainers, and I'm fully insured. I'm committed to excellent customer service and super fantastic entertainment for your guests.
Whatever your special event (btw, all events are special!), I'll help you make it most memorable. I clown around in Toronto, Etobicoke, Mississauga, Brampton, Woodbridge and all over the GTA, bringing fun, smiles and giggles wherever I go. Contact me now and plan the Best Party Ever!
My kid and her friends enjoyed Twinkles show at the party. She is entertaining, soft spoken and easy to communicate. I would recomend getting her services if you want to add something extra to your party ! 🥳
Naseem Syed-Mukri
2023-04-18
We hired Twinkles for our daughter's birthday party. From face painting, balloons and silly clown magic show, Twinkles entertained everyone in the crowd no matter the age. She had everyone giggling and laughing and managed to capture & hold everyone's attention which is no easy task. She is so soft spoken and super easy to work with. My daughter has Twinkle's jokes on repeat and her & her friends can't stop raving about the party. Don't think twice...book her for your event!!!
Twinkles attended my son's daycare party and the kids had a blast!!I had never spoken to her on the phone or met her and the transaction was even done before the day of the party, but she was there(showed up) and made his birthday unforgettable!!! You will not be disappointed with Twinkles!
Hired Twinkles for my daughters first birthday party in October of 2021, she did an amazing time entertaining the wide age range of kids at the party. I had many parents ask for her details and had the pleasure of her entertaining at atleast 4 family events since then! Look forward to booking her again in the future!
We hired Twinkles the Clown for our son's Third birthday party. I would highly recommend Twinkles. She was very professional, funny, engaging, caring and enthusiastic. She was able to engage a room full of young kids with her fabulous magic show. Her balloon animals were next level amazing. She is very talented and again I would highly recommend her!
She was amazing in my son's birthday party. She managed the kids, so well during face painting, that kids are still talking about it. The magic show was so engaging and fun that kids were enjoyed a lot. I would recommend her anytime for kids events.
Twinkles was organized, on time and so hilarious! She made me laugh multiple times - she was entertaining for the children and the adults as well. Her balloon animals were lots of fun, e.g. a butterfly with a net, a dinosaur - and I was impressed by her magic show as were our guests and our birthday girl! The magic show held everyone's attention from young toddlers to older adults. The bubble show was also mesmerizing to watch. Multiple guests asked for her information after she left. Thank you Twinkles for making our party extra special!
Some of the friends I've made along the way…