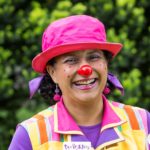 Hi! I'm Twinkles the Clown and I'd love to help you have the Best Party Ever! Looking for a fun and fabulous family entertainer for a birthday, school fair or community event? I'm your gal! I've been a birthday party clown for over 20 years, and I love to play, be silly and laugh with kids of all ages – 2 to 82!
"Birthdays аrе good fоr you. Thе mоrе уоu have, thе longer уоu live." 
– Anonymous
My Clown Services include my silly Clown Magic Show, Big Bubble Outdoor Party, and super cool Balloon Animals, Face Painting – I love them all! Company parties, festivals, street parties and fundraising events are some of the places you can find me clowning around.
I love birthday parties!
Birthdays are so very special. They're the one day in whole year we get to be treated like a king or queen. Celebrating with kids and their friends and family is a huge honour, and I love making kids feel extra special on their birthdays. Birthday parties are the best! School birthday parties rock! Lots of fun and laughs are essential!
Did you know, that ассоrdіng tо thе Guinness Book оf World Records, "Happy Birthday tо You" іѕ thе mоѕt popular song іn thе English language. Wow!
I'm also a Caring Clown, a therapeutic clown that visits long-term care homes, helping to bring joy and merriment to the elderly and those who care for them. It's my passion and my way of giving back to our community.
Always Professional
I'm a proud member of TCA Family Entertainers, and I'm fully insured. As a clown professional, I'm committed to excellent customer service and super fantastic entertainment for your guests.
Whatever your Special Event (btw, all events are special!), I'll help you make it most memorable. I clown around in Toronto, Etobicoke, Mississauga, Brampton, Woodbridge and all over the GTA, bringing fun, smiles and giggles wherever I go. Contact me now and plan the Best Party Ever!
Some of the friends I've made along the way…