Big Clown Fun!
Twinkles is committed to good, clean, family fun. Whether it's a private home birthday party or a large corporate family event, Twinkles will bring lots of fun and laughs.
Have the Best Party Ever! Contact her today for your event in Toronto and the GTA. Fully insured, always professional.
Balloon Animals
Think of a zoo and then see what Twinkles can do! She creates a wide range of balloon animals and hats to please kids young and old (adults too!). She entertains with humour and silliness – who doesn't love a balloon! See Twinkles Balloon Animals.
Big Bubble Party!
Perfect for outdoor parties, be amazed by the biggest soap bubbles you've ever seen! Then see the mega bubbler in action, making tons of bubbles the kids will run and jump to pop. Great for kids of all ages! Check out Best Parties Ever!
Clown Magic Show
A funny show with silliness and magic – Twinkles has lots of tricks up her sleeves. Audience participation makes this a super fun time with smiles and giggles. Twinkles can also stroll your event or festival with silly pocket magic.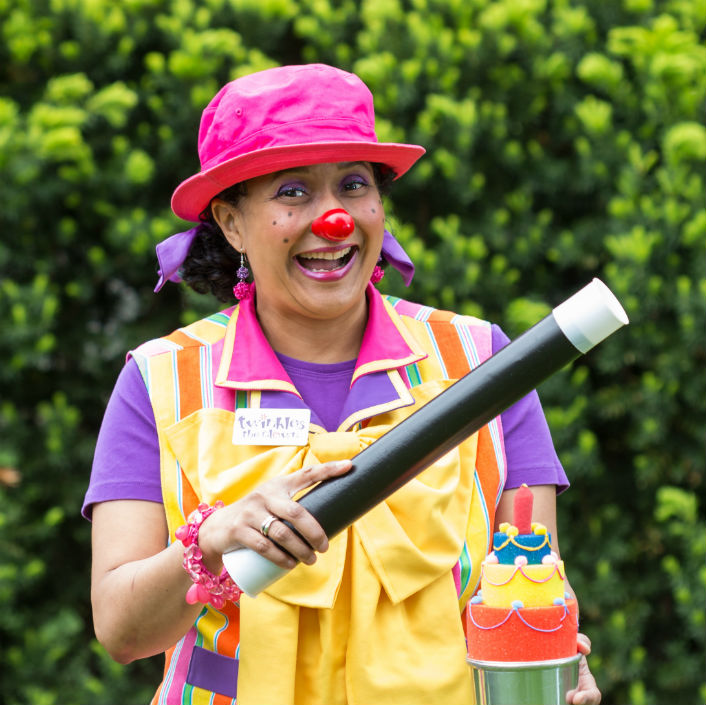 Face Painting
Kids love face painting! Whether it is a small cheek or arm design, or a full colour face, Twinkles face painting is sure to please both boys and girls. See Twinkles Face Painting.
Pre-school Program
This pre-school program is perfect for very young children. A program including kids' songs, fun party games, stories or puppets can be tailored to your group. Fun and easy parachute play can be included, even in a small space.
Party Games
Want something fun and active? Got a large space? Party games are good fun for the whole family. Traditional games like musical chairs, and exciting relay games are great for kids of all ages!
Contact Twinkles today to book great entertainment for your next party or event!